The Victor-Victrola Page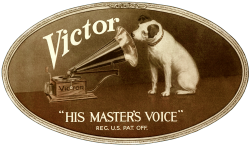 What is the Victor-Victrola Survival Database?
---
ANSWER: The "survival database" has been an ongoing project since the late 1970's, and has logged well over 200,000 Victor and Victrola phonographs which are still existent. It is used for research work: to determine when model changeovers took place, to quantify the rarity of certain models and finishes, and to better understand how many are still around. We do not require that the submitter include any personal information or email address information, and we do not store or log any IP addresses or other personal data. Information is never sold or traded to others. Users may choose to include their email address if they want us to answer questions (providing that the questions are not already covered on this website), or to respond back if their submitted machine is particularly rare. Email addresses are always deleted before entry into the database. All submissions are filtered for SPAM or phony data before being automatically entered.
Eventually, this information will be made available for public online queries and analysis; however, we have not yet developed a secure external interface for the database.
PLEASE CLOSE THIS PAGE TO RETURN TO FAQ's or RETURN TO HOME PAGE VIA BUTTON ON TOP LEFT