The Victor-Victrola Page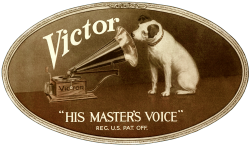 VV 8-35 Orthophonic s/n 1474
Build Date: May 1928
Originality: 1 Totally original (unrestored) cabinet, hardware and finish.
Overall Condition: 2+ Truly exceptional condition throughout
(See the Ratings/Condition page for our grading scales)
---
See it in action on YouTube! Click here.
The VV 8-35 was a 'console-style' Orthophonic Victrola introduced in the spring of 1928. The 8-35 had a lower-profile and a more modern-looking cabinet than its predecessor, the Credenza. Unlike previous Victor phonograph designs, the 8-35 did not have front doors hiding the record albums; albums were stored with their colorful spines exposed on shelves located on both sides of the machine. At the time this model was introduced, the price of Victor's Electrola models (electronically amplified phonographs) had dropped significantly; the newer electronic machines could provide greater sound volume and a more 'focused' quality than the acoustic models, while having the downside of adding distortion and 'hum'. Regardless, the popularity of purely acoustic phonographs such as the 8-35 was rapidly diminishing during the latter half of 1928; the 8-35 was one of the last large acoustic phonographs that Victor ever produced.

The 8-35 utilized a re-entrant (folded) horn design as did many other Orthophonic models. However, the 8-35 featured a stamped steel horn, rather than the usual pressure-formed wood horn. It retained the same exponential horn design as had had earlier Orthophonic machines, but the use of steel proved easier to shape and assemble during production, and also had the benefit of providing exceptional volume and performance due to reduced sound wave absorption within the horn cavity. These late-vintage acoustic machines have a very lively sound quality with improved high-frequency response when compared to their wood-horn counterparts.

The VV 8-35 was available with the choice of a mahogany or walnut finish, and included an automatic brake and 4-spring motor. An electric-motor (VE) version was also available at added cost. Production was discontinued a few months after it was introduced, although it remained in the Victor catalog during most of 1929. original 1928 selling price of the 8-35 was $300.00, which equates to more than $4,700.00 in today's money. A total of just 5,200 hand-wound Victrola 8-35's were manufactured during its short production run.
This example is 100% original in all respects, and is in fantastic unrestored condition. The original finish is truly excellent, showing only the very slightest signs of wear. It looks to be nearly brand-new. The original gold plating on the hardware shows light wear on the tonearm, but is certainly better than most. The grille cloth is original and looks great. Best of all, this machine has an original BRASS (not pot-metal) soundbox, resulting in the best possible performance for a machine of this vintage. The motor has been completely rebuilt; we also tore down the horn assembly and re-sealed the joints to assure that there are no leaks (air leaks in these horns will reduce sound quality, especially the bass). The only 'non-original' elements are the record albums. 8-35 models were originally sold with 'color-spine' albums; these didn't hold-up very well over time, and the original ones were completely dried-out and falling apart when we bought this machine. We have replaced them with a set of standard Victor albums with modern (reproduction) color spines added, which exactly match the color and labeling of the original albums that came with the machine. These give the machine a correct, original appearance, and add a colorful touch to the beautiful mahogany cabinet.
If you haven't heard one of these machines playing a good electrical recording, then you don't know what you are missing! This Victrola will amaze you with volume and clarity. A truly classic 1920's sound. This machine will show superbly and perform excellently in any room. It is the best 8-35 we have ever offered for sale, and certainly would be a contender for one of the best surviving originals in the country.
Large Orthophonic machines such as this one come-up for sale on EBay and elsewhere, and prices can be all over the map, but many are damaged or badly deteriorated. Even the rough ones are generally expensive, as they remain in relatively high demand. Many times, even basic replacement parts on these machines (like the grille cloth, fretwork or lid supports) can cost a small fortune. If you can find a "cheap" one, it will likely require total refinishing, replating of the hardware as well as a complete rebuild of mechanical components and sealing of the horn (no small job considering the complexity of the horn system). Try to find another original one of this caliber with a brass soundbox at anywhere near this price!
You can learn more about the VV 8-35 here.
PRICE: $2650.00
Click any thumbnail image for high-resolution picture.