The Victor-Victrola Page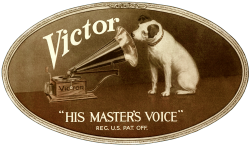 VV-IX S/N 77600 Type D

Build Date:

November, 1913

Originality: 1-

100% original except for turntable felt

Overall Condition: 3-

Very nice original machine, showing only slight wear

(See the Ratings/Condition page for our grading scales)
---
The VV-IX was Victor's most popular table-top internal-horn model, having been produced from April 1911 through 1925. It was one of the longest-running Victrola models, and was considered to be a major success for the company. A total of more than 550,000 were produced because it provided a great value for an affordable price. With a powerful two-spring motor, a well-finished red mahogany cabinet and full-size 12" turntable, it competed well against many of the higher-priced floor model machines of the era.
This machine is a true survivor, featuring the early cabinet design (later versions used carved "feet" on the bottom of the cabinet), and a very nice, 100% original finish with plenty of shine. This machine is complete and all hardware is correct. Only the turntable felt has been replaced. There are some light scratches here and there, but overall this is in far better than one would find at a typical antique store or flea market. The original nickel-plated hardware still gleams. We don't list many VV-IX's for sale, because they are quite common and most of our buyers are looking for floor models. However, this machine is a very nice original, shows very well, and after complete servicing, will provide years of dependable service.
This would be a great "starter machine" for the new collector, or as a conversation piece for someone who wants an original Victrola at a very affordable price.
For more information on the IX, please click here.
As with all our phonographs, the motor, soundbox and all mechanical components have recently been torn down, cleaned and correctly rebuilt. It comes with our 2 year unconditional performance warranty.



$ 495.00
Click any thumbnail image for high-resolution picture.
---