The Victor-Victrola Page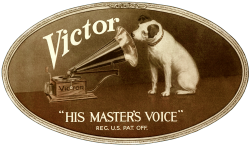 RCA RAE 68


---
Build Date: 1930-1931
Originality: 1- 100% original and correct except for rear cabinet panel
Overall Condition: 3+ Very nice throughout. Works well.
(See the Ratings/Condition page for our grading scales)
Click any thumbnail image for high-resolution pictures.
See it in action on YouTube! Click here.
Here's a really hard-to-find 1930/1931 RCA RAE-68 automatic record changer and radio console, manufactured shortly after RCA purchased The Victor Talking Machine Company in the fall of 1929. The Depression had just started, and there were very few buyers around for these expensive consoles. Due to Victor's massive over-production of high-end machines and cabinets during the late 1920's, RCA found itself strapped with a huge inventory of unsold products being stored in the plant at the time they took over the company. Amongst these products were machines such as the unsuccessful VE 10-69 model, which was launched in 1928. The 10-69 featured Victor's problematic 'second generation' record changer, which was considered to be hard on records, and was troublesome to maintain. Dealers couldn't move them, so many sat in storage in the Camden NJ plant. It is not certain if the 10-69 products sitting in factory storage in late 1929 were completed machines, or if they were simply empty cabinets waiting to be assembled with phonograph components; it any case, RCA decided to make use of the elegant cabinets by repurposing them into a completely new product. The company rejected using the Victor second-generation changers, and quickly developed their own lower-cost and more reliable record changer system. The result is commonly referred to as the "Third Generation" changer, and was adopted across a number of premium radio/phonograph models in the early 1930's. These changers were combined with the latest RCA radio sets and amplifiers, and were subsequently stuffed into the unsold Victor 10-69 cabinets; these were remarketed as the "RAE 68". This same process of reusing cabinets was also done on a number of other premium RCA models in the early 1930's.
Anyone who has seen these "Gen 3" record changers in action can testify to the clever approach used in removing the previous record, and sliding a new one onto the turntable platter from a carriage assembly. They are fun to watch, and provide almost 30 minutes of uninterrupted music from 10" 78 RPM records. The radio tuner is placed behind the front cabinet door, and is positioned rather low, requiring the user to either get on their knees or sit on a short stool in order to operate the controls. Obviously the process of fitting the newer RCA electronics into these previously manufactured Electrola cabinets required a considerable amount of compromise in 'user-friendliness'. The beautiful and ornate dark English-style cabinet is certainly a well made piece of furniture, and is very attractive. Original production numbers are unknown, but since RCA only made as many of these as were still sitting unsold in the warehouse, it is very unlikely that more than a few hundred were originally produced, and only a handful of survivors have been logged to date.
This example is a truly exceptional machine, arguably the best original one in the country. It is completely original and correct, except for the use of a modern perf-board replacement back-panel for the cabinet (the original panel was not with the machine when purchased, and they are impossible to find today). Overall condition is very good, showing only light signs of wear, with a few small chips and 'zings' present. It has an exceptional appearance, and still retains the correct stain shading and antiqued patina. The amplifier and radio were completely re-capped and overhauled about 10 years ago. The rebuilt changer runs flawlessly and smoothly. The amplifier is also a strong performer, but some of the potentiometers and switches should be cleaned again to avoid 'crackle' when adjusting. The radio works quite well in 'manual tuning' mode, but the automatic station pushbuttons and solenoid drivers will require some adjustment and cleaning work, as they tend to 'stick' (which was a common problem in these machines).
This console also includes the incredibly rare original remote-control module, which is virtually never found today. The remote is complete, but has not been tested. The internal switches will likely need cleaning and adjustment. To optimize performance, it is recommended that the new owner go though the electronics for a cleaning of controls, minor adjustments, and possible replacement of some of the tubes; but this machine performs quite nicely 'as is'.
The RAE-68 is an extremely hard model to find today, especially in great physical and functional condition. Given the exceptional quality of the original finish, and its complete, correct and operating internal components, this RCA set is a great representation of the best product that RCA made in the very early 1930's.
This would show magnificently in an elegant music room or library.
It comes with our limited warranty.

$ 2,750.00
Click any thumbnail image for high-resolution picture.
---