The Victor-Victrola Page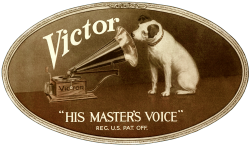 Victor IV with Sheffield Sterling Horn and Hertzog Base Cabinet Serial Number 30398


---
Build Date: Late 1909
Originality: 3 Professionally Restored in 2009
Overall Condition: 3- Exceptional overall appearance, shows minor wear
(See the Ratings/Condition page for our grading scales)
Click any thumbnail image for high-resolution picture.
See it in action on YouTube! Click here.
The Victor IV was an "upper mid-priced" phonograph in the company's early product lineup. It featured a 10-inch turntable, nickel-plated hardware, and an exceptional 2-spring motor. Unlike the lower-priced models produced in oak, the Victor VI had a red mahogany finish with rounded column corners. An Exhibition soundbox was standard equipment so as to provide added volume and fidelity. Selling at a substantial base price of $50.00, it was intended to be marketed to upper-middle class households; however, with just over 33,000 sold, it is far less common today than the other 'mid-priced' Victor III or Victor V models.
This machine also features a rare and highly desirable "Sheffield-Sterling" large nickel flower horn. This was an expensive dealer option at the time, selling for an additional $12.00 above the cost of the machine alone. Due to the high cost, very few machines were sold with these horns.
In addition, this set includes a very scarce Hertzog phonograph base cabinet in matching mahogany. With elegant 'swell' carvings in the front, and plenty of room to store records and/or albums inside, this was another expensive dealer-sold accessory at the time. Look at the detail in the carving (shown below)! At a total cost exceeding $90.00 for this combination when new, it equates to well over $2,600.00 in today's money. A package such as this was a very exclusive luxury at a time when the average wage was 22 cents per hour!
This set was professionally restored about 15 years ago, and shows minor evidence of usage and wear. The original nickel hardware on the phonograph is in very good condition, with some of the usual minor pitting and wear being evident. The original back-bracket and decal are extremely nice. The turntable felt was replaced, the motor has been overhauled, and the Exhibition soundbox is fully rebuilt. The bright nickel-plated horn is also in very nice condition with none of the dents and deformations that are usually present on these large metal horns. The nickel plating on the horn is 100% original, and shows only minor pitting in a few places; but as you can see from the photographs, it has an absolutely spectacular appearance. The base cabinet is also exceptionally nice; the doors and latches operate correctly, and it shows only minor signs of use. While we can't classify this set as being in mint condition, it is certainly very presentable without any apologies. Most importantly, it is 100% authentic and has a stunning appearance. Visitors who have seen this set are often awed at the detail and craftsmanship. This machine is "loud and proud".
Finding a similar set of this quality and scarcity would be a serious challenge today; very few of these nickel flower horns have survived, and matching mahogany Hertzog cabinets rarely come on the market. This is the first time we have offered a Victor IV and base cabinet set of this caliber. This Victor phonograph and Hertzog base deserves a prominent place in an important collection, or as a display item in an elegant music room or parlor. It plays magnificently and the sound will fill virtually any room. The price has been determined based on rarity, correctness, and overall condition.
You can learn more about the Victor IV by clicking here.
As with all our phonographs, the motor, soundbox and all mechanical components have been torn down, cleaned and correctly rebuilt. It comes with our 2 year unconditional performance warranty.

$ 3,750.00 (machine with base cabinet)

Click any thumbnail image for high-resolution picture.
---