VV 12-12 / Tuscany
RARITY: ¤¤¤ VALUE ¤¤


---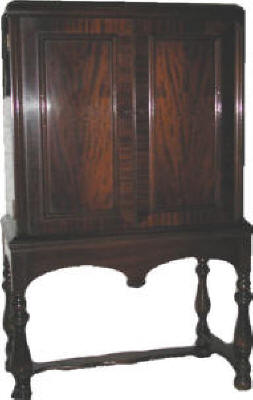 The Tuscany was an upscale electric phonograph, introduced in the spring of 1926. No radio was included in this model, which featured a simple 5 tube amplifier designed by RCA. It used a paper cone speaker, which was a fairly recent advancement in sound reproduction. Most previous designs used electromagnetic drivers coupled to a wood horn. The Tuscany had a mahogany upright cabinet with a blended finish.
The Tuscany sold for $550.00 new. Production ended in early 1927.
Approximately 1700 Tuscany phonographs were produced, making it a relatively rare model.
Do you own a Tuscany? Please take a moment and enter some basic information about your machine into the collector's database by clicking here. No personal information is required.