The Victor-Victrola Page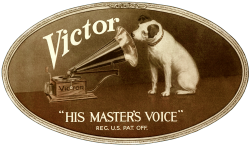 The turntable spins, but the sound is terrible. What could be the problem?
---
ANSWER: There can be several causes for bad sound:
1. Worn needle (don't forget: steel needles are good for playing only ONE record!!)
2. Worn record (are you using a pre-1935 shellac 78 RPM record? If the grooves appear to be "whitish" when seen at an angle, the record could simply be worn out. If you are using a late-vintage 78 or a vinyl record, then you have the wrong type of record on your machine!
3. Damaged soundbox diaphragm or mis-adjusted stylus linkage
4. Dried-out soundbox gasket (around the mica diaphragm)
5. Are you playing the record at the correct speed? If it is a Victor record, the turnable must be operating at 78 RPM. Check the page here.
Instructions for repair are beyond the scope of this website, but the reader is strongly encouraged to purchase a copy of Eric Reiss' book "The Talking Machine Companion" (see the "RECOMMENDED READING" page).
Don't forget that your Victrola isn't ever going to sound like your CD player or cassette player. These machines have a pretty unique sound quality that takes a little getting used to!
PLEASE CLOSE THIS PAGE TO RETURN TO FAQ's or RETURN TO HOME PAGE VIA BUTTON ON TOP LEFT