Victor 0 Serial Number 1812 Type A SOLD! Kirkland WA
Build Date: Early 1910
Originality: 1- !00% original except for turntable felt.
Overall Condition: 5 Shows considerable wear, but is complete and working
(See the Ratings/Condition page for our grading scales)
---
The Victor 0 was introduced in 1908 as the lowest-priced "starter model" phonograph in the product lineup. Selling new for just $17.50 (which equates to about $460.00 today), it was the most basic and lowest-cost phonograph you could buy from Victor at that time. It used a simple single spring motor, a very elemental red-stained base cabinet, a special "mustard" colored horn and a unique soundbox. Factory records indicate that about 50,000 of these were produced, which was a relatively low volume; however it is easy to understand why so few were sold. For just a few dollars more, you could buy a Victor I with a nicer cabinet, larger horn, and better sound reproduction, so most people decided to step-up to the better model, and well over twice the number of Victor I's were made . Most Victor 0 machines were likely given as gifts to children or young adults, and as a result, not many have survived. The Victor-Victrola survival database reveals that the Victor 0 is one of the scarcest external horn models to be found today. Most were likely trashed by the young owners, or were tossed out as being a "toy" when they became obsolete. This example, while well worn, is complete and correct. They do come across the auction block occasionally; however, most Victor 0's we find are missing the original horn (due to the small neck, no other Victor horn is interchangeable with this model), or have a missing correct soundbox. If you are looking for a rare original external-horn phonograph that does not take-up a lot of space, this would be an outstanding choice. It does show considerable wear, but it is complete and correct in all respects. It has been priced commensurate with its condition. This machine has a single-spring motor, which must be would after every record is played. These very basic early phonographs do not provide the best sound quality, but this machine does work well and plays loudly; it is surprising in audio performance considering the rather crude and basic components. Consequently, this phonograph is not recommended for the buyer who wants to continuously play records for serious listening, but it is very well suited for the occasional user who wishes to use it to show and demonstrate the performance of early phonographs via an authentic and uncommon original machine that has not been "messed with". The motorboard has cracked and been well repaired many years ago. The hardware is all correct with original nickel plate, but shows surface corrosion. Overall, while this is not sold as a show-quality example, it is an authentic, quite rare and original phonograph that is over 100 years old, and will show well in any home. Both the motor and soundbox have been completely rebuilt.
You can find more on the Victor 0 by clicking here. As with all our phonographs, it comes with our 2 year unconditional performance warranty.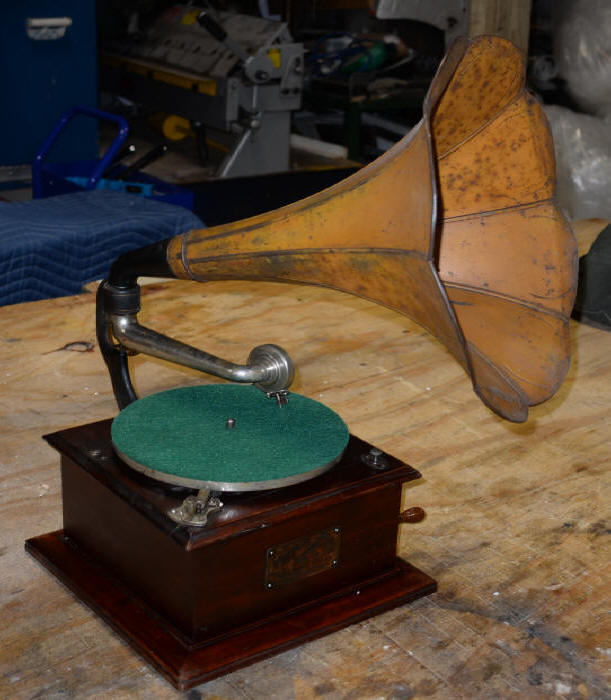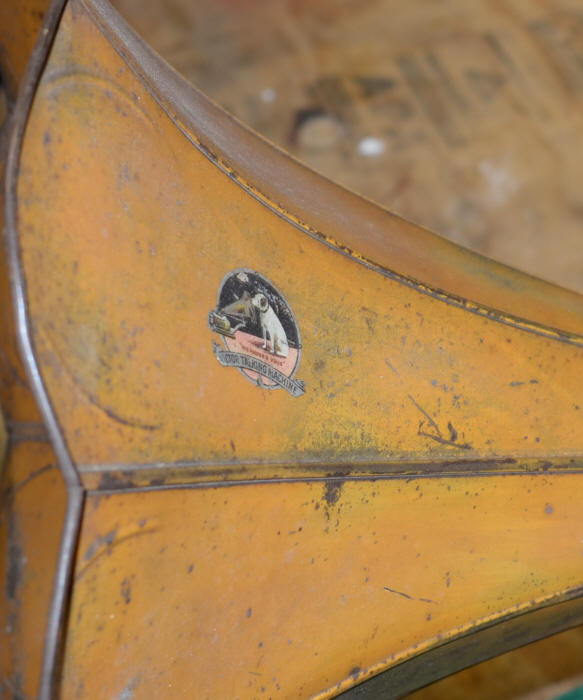 SOLD!