Special Order Models (SP)
RARITY: ¤¤¤¤ VALUE: Depends on design and finish; see below


---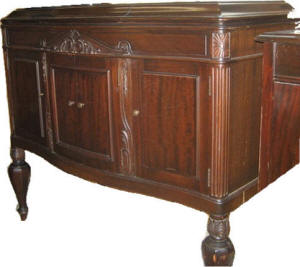 Victrolas with an "SP" prefix before the model (e.g. "SP-515" on the tag instead of a model number) were special order phonographs that Victor produced between 1922 and 1925. The number following the "SP" indicates a unique special order model, followed by a serial number. In some cases, these machines have large custom cabinets and fancy trim or carvings, while other examples are quite plain and very similar to standard production models. Some of the larger department stores (Lord and Taylor, Macy's, etc.) purchased small lots of "SP" models that were made to their own specifications. These were prominently displayed in their stores, and usually sold to wealthy customers. In other cases, "SP" machines were special-ordered by individual customers through their local Victor dealer. Victor would design and produce a phonograph to almost any requirement or to match any decor if you were willing to spend enough money. Some of the SP phonographs are quite elaborate. Other examples appear to be factory prototypes built for engineering or design review. Others are extremely plain and simple in design.
Due to the low volume of production, very few "SP" machines have surfaced. Each "SP" model has a unique serialization beginning with 501. Valuation is primarily based on the uniqueness of the design (for example, an "SP" with a design similar to a standard production model will not be nearly as valuable as an elaborate example with custom veneers). No further information on dates or production volumes is available at the present time.
The example to the left is SP-346, the one on the right is SP-683, custom made for the Lord and Taylor Department Store Chain. It was sold to Lord and Taylor customers as an elegant custom model.
Do you own a Victrola SP? Please take a moment and enter some basic information about your machine into the collector's database by clicking here. No personal information is required.