Victor Type P Serial Number 14771 SOLD! St. Petersburg, FL
Build Date: 1903 (estimated)
Originality: 2 Very nice original horn, cabinet was prefessionally refinished many years ago
Overall Condition: 3 Excellent all around, an exceptional machine
(See the Ratings/Condition page for our grading scales)
---
In 1902, when the phonograph was becoming less of a novelty and more of a provider of serious home entertainment, Victor decided to give their products additional public exposure via the production of "Premium" (Type P) machines. These phonographs were sold to various marketing firms with the intention that they would be given away at no cost with the purchase of other products. For example, magazine publishers would give away a Type P machine as an incentive to anyone who could secure the purchase of ten annual subscriptions to the magazines. Other firms would give them away if you purchased an expensive piece of farm equipment or a home appliance. The Type P served to both promote Victor phonographs and motivate buyers to purchase other products.
The first Victor P was produced in 1902, and production ended around 1906 when phonograph sales were stable and growing at a fast enough rate such that "giveaways" were no longer needed. Exact production figures are not known, as the company did not keep very good records of this model. The Victor P was not a very profitable product, as the selling (wholesale) price to the marketing companies was much less than $3.00, meaning it had to be made at a very low cost (with subsequent low profit). However, it did serve to expose Victor products to a broad base of customers who might otherwise not buy a phonograph. Plus, they would probably go out and buy a bunch of Victor records to play on it!
Even though "Type P" serial numbers have been logged as high as 83,000, there are only 368 of these machines logged in the survival database to date, and there are huge blocks of skipped serial numbers in the database. Based on this information, and an extrapolation of the logged serial numbers, it is very probable that less than 25,000 were made, making the "P" a relatively low production model. Several different variations of this series were made, designed as "P", P1", P2", etc., the biggest differences being the motor design and cabinet size. Each design iteration was a little smaller or cheaper than the previous version, likely due to cost-cutting efforts (after all, these were intended to be given away). The "P" version (this example) was therefore the original and best-built model in the series. There are no records showing a correlation of serial numbers to year of production, but we estimate this one to have been made in 1903. given the fact that it uses the newer "Exhibition" soundbox (early examples used a "Concert" soundbox). The blocks of skipped serial numbers probably occurred when the change was made from "P" to "P1" and so forth.
The "P" was about the simplest phonograph that could be produced at the time. A basic oak cabinet, single spring motor a crude bevel gear drive and governor system, and an integral horn/tonearm system provided loud and clear sound reproduction, but lacked the refinements (quiet motor, more wood trim, stable speed, etc.) that would be found in the high-priced models.
These machines are not easy to find, as many were tossed out given their simple design, and minimal perceived value at the time. This particular example, in our opinion, is an exceptional machine for several reasons. Firstly, it is totally correct, and has a truly great appearance. The older restoration of the base cabinet was very nicely done, and the original Victor horn with Japanned Black finish still shines. The original Victor decal is in excellent condition. While there are a few minor dings and deformations on the horn, it is exceptional considering this machine is 112 years old. It is far better than 95% of the horns we come across. None of the usual big dents and damaged black paint.
The original buffed copper finish on the motor support bracket and turntable base is also outstanding. The motor and soundbox have been fully rebuilt, and it performs remarkably well, given the fact that the motor is such a simple design. Buyers should note that on all "P" models, there will be considerable gear noise and slight turntable speed variations, as the this model was simply not intended to compete with the performance of full priced machines of the era. However, it will play any 10" record loud and clear. This is one of the nicest early "P" machines we have come across, and it would be a star in any collection.
This machine is for the discriminating buyer looking for a very early and rare Victor Phonograph, and wants a exceptional example.
You can find more on the Victor P by clicking here. As with all our phonographs, it comes with our 2 year unconditional performance warranty.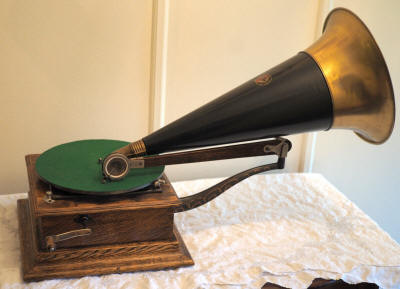 SOLD!