VV-XIV Serial Number 3742 (Very Early Queen Anne Style) PRICE REDUCED!
Build Date: Approximately February 1911
Originality: 1 Totally original
Overall Condition: 4 Original finish and hardware shows wear
(See the Ratings/Condition page for our grading scales)
---
The VV-XIV was one step down from the Victor "flagship" XVI model and was first introduced in late October, 1910. Since the XVI was selling so briskly at a whopping $200.00, Victor management decided that a lower-price machine should do even better in the marketplace, and thus the XIV was born. The only significant difference was the cabinet size and design; the XIV shared the gold-plated hardware and the pull-out record shelf with the XVI, and used the same premium Victor 3-spring motor. However it featured numbered record "slats" in the storage area, to make the process of storing records simple. The design was admittedly a little awkward; the larger lid of the XVI was placed on a smaller boxy cabinet with Queen Anne legs, and consequently, the buying public didn't take a liking to this model. By early 1912, a redesign took place, resulting in a more conventional Victrola appearance for the XIV. At that time, the gold hardware was replaced with nickel to save on production costs. Only approximately 9200 of these early version XIV's were made before the design was discontinued (nearly a quarter million later-vintage XIV's were produced!), making this example one of the rarer early Victrolas. It is highly sought-after by collectors today, and unlike other models, it is seldom found on the auction or estate sale circuits. This machine is absolutely 100% original in every respect, right down to the turntable felt. We rebuilt the motor and soundbox and have only gently cleaned the cabinet. The finish does show wear, and there are a few scratches, but it is solid and presentable. Given the rarity of this model, we have left it untouched in the original state; however, if a buyer is interested in having us perform a full museum-quality restoration on it, we can certainly negotiate an agreement. The early-design "yielding turntable" 3-spring motor runs well, and performance is quite good. Much of the original gold remains on the hardware, but there is some wear. You can find more on the XIV by clicking here.
This would be an outstanding selection for anyone who wants a rare and unusual model in their home or as part of their collection. If originality is important to you, this is about as original as they come. As with all our phonographs, the motor, soundbox and all mechanical components have been torn down, cleaned and correctly rebuilt. It comes with our 2 year unconditional performance warranty.
See it in action on YouTube! Click here.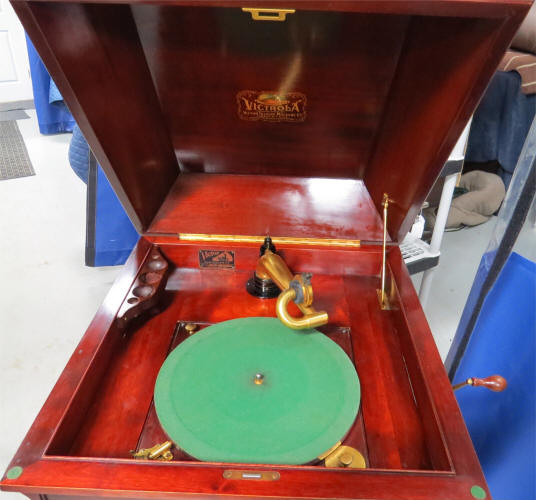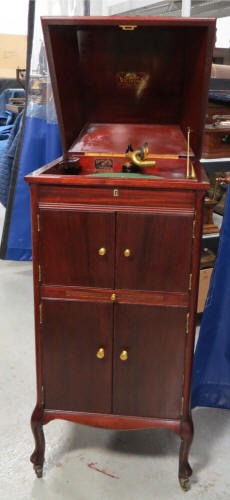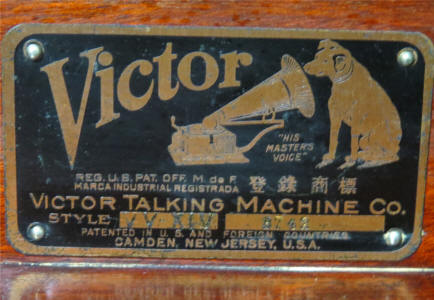 Price: $795.00 PRICE REDUCED! $595.00