Restoration Services "The Very Best"
---
There are many antique restoration services available to consumers; some are quite professional and provide high-quality work. There are many others whose time-clock mentality and lack of experience in using the correct parts, fillers, stains, etc. for a specific product can result in an incorrect and very unsatisfactory restoration. I've seen many examples of "professional" restorations with visible drips and runs, incorrect color, bits of old finish still stuck in nooks and crannies, failure to use proper grain fillers, etc. In addition, if the commercial service is not highly familiar with the correct original Victor factory assembly and finishing processes, they may not understand the proper materials and techniques needed to assure an authentic restoration.
Generic "antique restoration" services that you find in the phone book or on the web can usually produce decent-looking results to the inexperienced eye; however, in most cases, when you compare that result with a mint original Victor machine, you will immediately see the differences. Is the finish totally "piano smooth", or is it a bit craggy in places? Can you clearly see your reflection from all surfaces, or is it dull in some spots? Is the hardware sparking like new, or just polished over? Are the knobs and hinges correct for that model? The little details...like the color of the felt and shade of the gold plating, the ways the doors open and close, and the smoothness of the motor and mechanical systems...make the difference between a general antique restoration and an authentic Victor Talking Machine restoration.
There are also a number of services that specialize in "phonograph restoration", which can include literally hundreds of different makes and models produced over the years; our restoration work is limited to only Victor and Victrola products, meaning we fully understand all the nuances that make a Victor product unique. We stock the correct parts for your Victor machine, we have the correct manuals and factory catalogs to assure that our work is done right. We know how it should look and perform when it leaves our shop.
Our services range from a simple refurbishments (clean-up, lubrication, minor mechanical repairs, and smoothing out the original finish) to complete ground-up restorations. Only premium finishing materials and authentic replacement components are used. Restorations are available in "museum" grade, bringing the machine to immaculate condition, or "home" grade, resulting in a very presentable result at a reduced cost. The differences in grade include the finishing materials used, the replating of hardware, and the labor hours used for carving repairs and other detail work. In most cases, individuals who are interested in historical accuracy and maintaining value will opt for museum grade. Those who simply want a good-looking and fully functional machine in their living rooms will choose the home grade. Our home grade far exceeds the quality of most commercial antique restorations; our museum grade restorations are second-to-none. In all cases, our 2 year warranty of all mechanical components is the best in the industry.
All finish sanding and polishing work is done strictly by hand (no power equipment), just like it was done in 1910. We use Behlen Brothers finishing products, which are twice as expensive as the usual "hardware store" stains, varnishes and lacquers, but these products match the original Victor finish material characteristics. Stains, fillers, waxes, etc. are usually custom blended to match the original colors as closely as possible. Parts are properly re-plated, major mechanical repairs are done in our machine shop, and new veneers (when required) are applied using a vacuum press system. Replacement doors, lids, etc. are readily available for virtually all models when needed. A variety of veneers are available to provide excellent grain and color matching. We have brought many basket-case Victrolas back to show condition.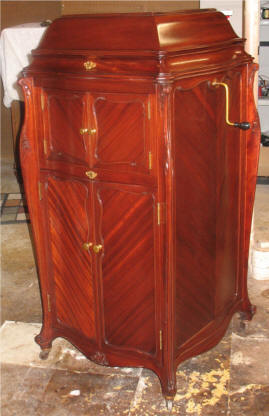 Museum grade restoration (right). A Victrola VV-XVIII, formerly belonging to an official of the Canadian Government, and restored for a museum. This machine had been stored in a barn for a while, had been exposed to water at the base, and required extensive re-veneering and carving/detail repair. This museum quality restoration required 210 hours of work and approximately $2000 worth of materials to bring it back to new. Worth it in this case, since it has significant historical value.
Click here to see what's going on in our shop during Winter-Spring of 2014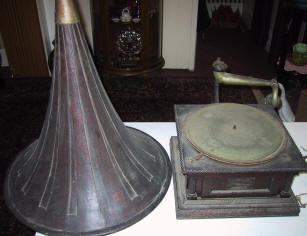 Before and after. An early Victor D in oak.
Our prices are admittedly higher than many "antique restoration" or competitor's phonograph restoration services, but the end-results will never disappoint, and your restoration will be as authentic as possible. Exact cost will depend on the following factors:
Initial condition of phonograph (water damaged, bubbled veneer, gouged, broken legs, etc.)

Model and size

Extent of restoration desired (museum quality, home quality, minor refurbishment, etc.)
Restore or Refurbish? Many commercial services will recommend a ground-up, expensive restoration to clients. As a Victor/Victrola historian, collector and researcher, I would much prefer to see these old phonographs maintained in an original state, if at all possible. In many cases, a proper refurbishment will bring your phonograph's appearance back to an acceptable condition without requiring that the original finish be stripped...and at considerably less cost than a total restoration. Of course, when a machine has been exposed to water or the elements, a complete restoration is the only choice. However, many Victors and Victrolas are good candidates for refurbishment, and we will be happy to recommend the best course of action for your phonograph.
As a rough idea, most refurbishments (clean-up, lubrication, minor mechanical repairs, and smoothing out/polishing the original finish) begin at $200.00 for small single spring tabletop models, and can exceed $1000.00 for large floor models, depending on condition and extent of required work. Ground up restorations begin at $350.00 for small tabletop models, and can run into many thousands of dollars depending on model and extent of restoration. For details of what work is typically performed in a restoration, please see the "Restoration" page. Please be aware that the restoration cost for common Victrolas can easily exceed the current market value. For rare machines, a proper restoration can be a great investment. Many clients choose to have a common phonograph restored for sentimental or personal reasons. In any case, it is always wise to make sure that the restoration is done correctly to maintain value and to assure historical accuracy.


Please note that we do NOT sell parts. Please see the Parts Suppliers Section for sources of Victor parts