If you are interested in having your Victor or Victrola restored, repaired or refurbished, please read this brief section before contacting us.
For many years, we have provided restoration price estimates via simple email inquiries; however there has been a growing trend of restoration requests from casual "lookers" who simply want to know how much it would hypothetically cost to fix grandma's old phonograph. These non-serious inquiries have been consuming more and more time, forcing us to now take a different approach to quoting restorations. Consequently, current policy has changed as follows:
Please email us with the model and serial number of your phonograph (Victor products only please), a general description of condition and specific problems areas, and, if known, the type of work desired. To summarize the options:
Refurbishment - entails total mechanical rebuild, deep cleaning of cabinet and polishing hardware

Home Restoration - mechanical rebuild, strip cabinet and refinish to match original color. Polish hardware.

Museum Restoraiton - mechanical rebuild, strip cabinet, apply grain fillers, repair veneer and carvings, 8 to 10 finish coats, hand-sanded between each coat. Replate all hardware. Results in a "piano smooth" finish as when new.
If you are not sure of the level of restoration you wish, simply let us know and we can explain in detail.
Include several good quality photos of the machine taken from different angles, including the turntable area. If you don't have access to a digital camera, just let us know and we can make arrangements to have pictures sent to us via surface mail. We will not discuss or estimate a restoration project until we have seen good phonographs of your Victor or Victrola phonograph.
Once we have reviewed the pictures, we will respond to you via email with a phone number you can call to discuss your restoration options. Then simply call us at any convenient time. The client must make the initial call. Our conversation will be a very mellow, friendly, no-pressure chat, to discuss your needs in detail and answer any questions. After we fully understand your requirements, we can then give you an estimate of cost over the phone, based on the photos and our discussion. If you get a voicemail when calling, simply leave a message with your name and the model of phonograph you own, and we will call you back as soon as possible. After we have spoken, if you decide you don't want to pursue the restoration quote any further, we will thank you for your time, and that will end any further communications.
If you are interested in having the restoration work completed, we will email you a detailed quote within 48 hours. A deposit will be required.
We regret having to implement such a rigid policy; however, we have found that most serious clients don't mind spending a few minutes to call and discuss their phonograph, and to allow us to better understand their expectations. This process also serves to filter-out the casual/curious "lookers" from the serious clientele, and allows us to provide you with a more accurate restoration quote.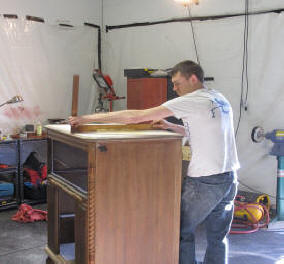 Other important things:
We do not sell parts. Please contact one of the repair services listed under the RESOURCES section of this website for parts.
We can't provide detailed repair or restoration instructions beyond that which is covered in the RESOURCES section of this website unless you wish to hire my services for this purpose. With 110+ email requests every day, it simply isn't possible to answer each one in detail.
There is currently a 12 to 18 month waiting period for most restorations. The wait will be well worth it.
If you are interested in purchasing a phonograph that has already been restored, please email us at the address below with your specific needs.
Phonograph packing and arrangements for shipment and delivery to and from our shop (in Southeast Michigan) is the sole responsibility of the client. We will work with you to assist in the process, and recommend some good carriers, but all costs and logistics related to pick-up/delivery are the responsibility of the customer. Photographs will be taken upon receipt and prior to return shipment to document condition. We will wrap each completed phonograph in plastic and layers of protective furniture blankets (if necessary) prior to shipment. We are not responsible for shipping loss or damage. Time does not permit us to investigate shipping prices from different carriers. Our shop is readily accessible by truck or van for delivery and pickup, and we will make every effort to work with the delivery or pick-up carriers so as to minimize any delays or damage. In some cases, we may be able to arrange for pickup/delivery with our van if we are travelling near your location. Contact us for details.
If these terms are acceptable, please contact us at inquiries@victor-victrola.com to initiate a restoration quote! We look forward to hearing from you.
Thank you!
Close this window to return to the "Services" page.