VE 10-50 X Orthophonic with Automatic Record Changer s/n 7528
Build Date: Approximately September 1927
Originality: 1- Totally original (unrestored) cabinet, hardware and finish. Pot-metal changer parts replaced with aluminum parts. Turntable felt replaced.
Overall Condition: 3+ Beautiful finish, shows some wear and marks on top.
(See the Ratings/Condition page for our grading scales)
---
See it in action on YouTube. Click here.
The VE 10-50 was an epic "game-changing" phonograph when introduced in early 1927. It was the first machine with a fully automatic record changer that was made available for the home market. No longer did the listener have to get-up and put another record on the turntable; this machine did it for you!
Selling for a whopping $600.00 (which equates to over $8,300.00 in today's money), it was targeted primarily for wealthy customers, but many hotels and restaurants purchased them to provide background music for their customers. It was such an impressive concept, that many popular venues would feature "afternoon concerts" with the 10-50, where people could come and hear an entire program of music without interruption. A stack of records was loaded onto the changer via a special handle with a shaft that mates to the changer tip, allowing the user to slide the discs effortlessly to the changing mechanism. Once the "start" button was pressed, the changer operated smoothly, picking-up and transferring a record to the turntable, and when complete, dropping it into a padded compartment. Then the next record was loaded. Since the 10-50 had Victor's largest Orthophonic horn, the sound volume and tone quality was exceptional. It even shut itself down when the last record was played. Surprisingly, in spite of the high price tag, the 10-50 became quite popular, and 11,300 were produced before it was discontinued, making it a big financial success for The Victor Talking Machine Company. The elegant cabinet, in semi-gloss walnut with a blended stain, was very large and well trimmed. Pull-out record albums provided storage. More information on the 10-50 can be found here.
These models very rarely come available, especially in this condition. In most cases, when we find them, the changers are non-functioning and the large cabinets have been beat-up due to years of storage (and used as a "table top" to store other items). It is very common to find these large floor models with missing "feet" and trim parts, as well as lots of serious gouges and crazing in the soft lacquer finish. Not on this machine! While not perfect, with some surface wear of the finish present on the top (most likely from having items placed on top in past years), it still shines strongly. No gouges, dents or deep scratches. This is a very presentable and impressive machine in every respect, and is FAR better than most we have come across in recent years. These machines come available frequently, but in nowhere near this condition...and then you will invest a fortune to get it all working correctly. Original pot-metal changer parts have been replaced with aluminum parts, and the changer operates smoothly and quietly. A great deal of effort went into overhauling and cleaning the motor/changer system, and it will last for many years to come. The original Orthophonic Soundbox, which is a BRASS version, not the usual pot-metal type, is a strong performer. Original, correct 10-50 albums are also present. Original gold plating on the hardware is exceptionally good. It even has the original grille cloth! There is nothing to compare to the unique sound quality produced by these Orthophonic machines when playing a good electrical recording. As with all our phonographs, the motor, soundbox and all mechanical components have been torn down, cleaned and correctly rebuilt. Try to find another one in this condition that works perfectly!
Note that the phonograph feet are sitting on portable "caster" bases in the pictures below to simplify movement.
Please be aware that this machine weighs well over 300 lbs., and will require freight shipment. Four people will typically be required to move it into a home. Alternatively, we may be able to provide direct delivery, depending on your location and timing needs. See our SHIPPING section for more details.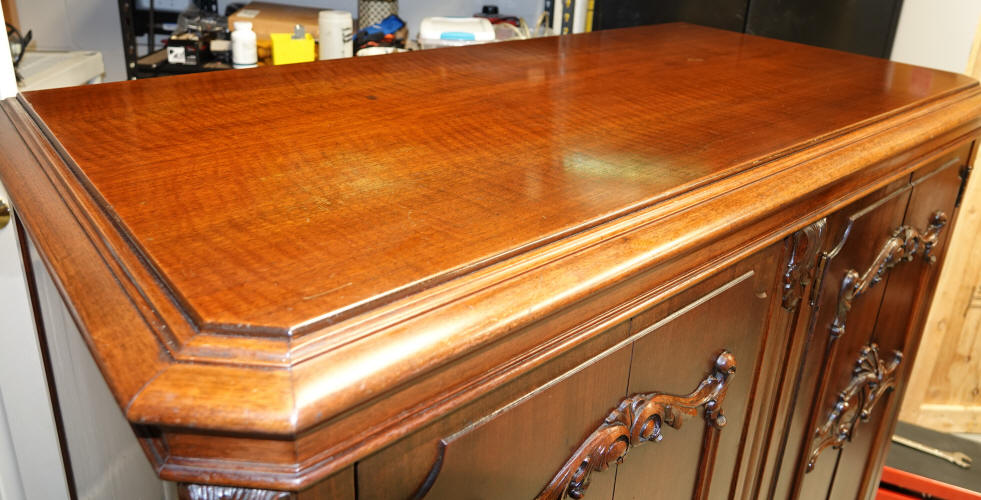 PRICE $3400.00