VE-230 Serial Number 972 American Walnut
Build Date: 1923
Originality: 1 Absoulutely untouched original
Overall Condition: 2- Shows minimal wear
(See the Ratings/Condition page for our grading scales)
---
See it in action on YouTube! Click here.
This is an epic machine, in both rarity and condition. The VV-230 was Victor's most expensive non-custom phonograph when introduced in November of 1922. Selling for a whopping $375.00 in mahogany, the 230 featured Victor's largest horizontal (console) cabinet, with extensive hand-carved details, bombe (swell) curved doors and side panels, gold-plated hardware and a 4-spring motor. Less than 3,000 spring-wind (VV) machines , and only 820 electric-powered versions were produced between 1922 and 1925, making it one of the rarest and most desirable models of the mid-1920's. This example has the electric motor option (adding $50.00 to the list price) AND the optional American Walnut veneer (which added another $50.00 to the original price). So someone paid $475.00 for this machine when new, which equates to $7,000.00 in today's money!
This is a massive, heavy, and imposing phonograph. The finish on this spectacular machine defies description. The veneers on the more expensive Victrola models (like the 230) were carefully hand-selected and fitted, and thus the figuring and detail on this machine is breathtaking. We have only logged a total of 10 survivors of this model in American Walnut, and the totally original condition of this example is outstanding. The carvings are perfect. There are no significant dents, scratches or damage. Only the slightest signs of wear are present. Even the massive lid has great detail in both trim and shape. The turntable felt is original. While the lower-tier console-style Victrolas seldom generate a great deal of collector interest, the 230 is a major exception; so few were made and they were so expensive when new, that they are still in demand. VV-230's rarely show-up for sale, and most that do appear at auctions and estate sales have the standard mahogany finish, and are in pretty rough shape. You will not find another one of these of this caliber, as a 100% original example in American Walnut, retaining it's factory shine. The only reason we don't rate the condition higher is the fact that a doily or other cover was apparently placed on the lid for many years, and shaded this portion from light and the environment, so the center section of the lid now appears slightly darker than the surrounding area (see picture below). It is not a big deal by any means, but we are being critically honest with all descriptions. There is NO water damage or gouges on the lid or elsewhere. No crazing or alligatoring anywhere. This machine plays beautifully, and will bring years of reliable service. No winding required, as the electric motor will play records all day long. You can find more on the VV-230 by clicking here.
For those who may be interested, we have an even rarer and more spectacular Circassian Walnut VV-230 in-stock. Please contact us for more information on this incredibly gorgeous machine. It is expensive, but worth it!
This Victrola is truly a spectacular show-piece, for the discriminating collector, or for someone who wants a fantastic original example of Victor's craftsmanship at its very best. As with all our phonographs, the motor, soundbox and all mechanical components have been torn down, cleaned and correctly rebuilt. It comes with our 2 year unconditional performance warranty.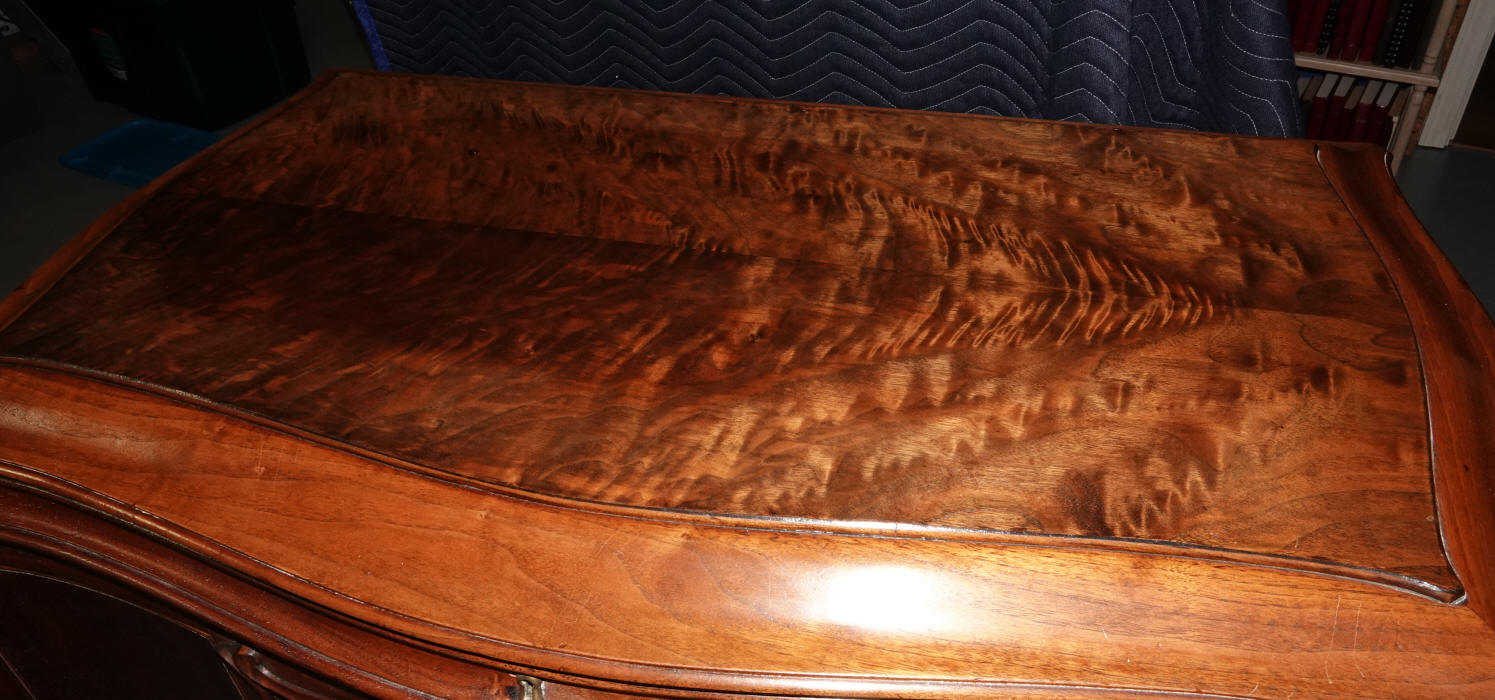 PRI
CE : $3750.00