VV 8-12 Orthophonic s/n 20712
Build Date: 1928
Originality: 1 Totally original (unrestored) cabinet, hardware and finish.
Overall Condition: 3- Extremely nice, minor wear to finish.
(See the Ratings/Condition page for our grading scales)
---
See it in action on YouTube. Click here.
The Victrola 8-12 was an "upper mid-line" machine in Victor's company's lineup. First introduced in 1927, it became a viable alternative for those who wanted really good sound reproduction for electrical recordings without the large size and depth of the "Credenza" model. These models were made during the very end of the acoustic phonograph era; the price of tube amplifiers was falling, making them the product of choice for many upper-class buyers. Therefore, the 8-12 was a good option for the average middle-class customer who wanted good sound reproduction at an affordable cost. The 8-12 featured a "folded" ("re-entrant") horn, the Orthophonic Soundbox, antique bronze plated hardware and Victor's best 4-spring motor. At a selling price of $235.00, it was a relatively expensive piece of equipment, but many were sold due to its outstanding sound reproduction. The horn on the 8-12 is folded vertically (rather than horizontally, as was the case in most Orthophonic models), giving it a much shallower profile. This allowed placement in most rooms without the machine sticking out into the living area.
This example is 100% original in all respects. It is exactly as it was shipped from the factory, including the turntable felt, soundbox, and all hardware. The original finish is truly excellent, showing only minor wear and a few shallow scratches and dings here and there. Most people don't even notice these in normal household light. The original bronze plating on the hardware shows light wear in places on the tonearm, but is certainly far better than most. Not only did we do a complete overhaul on the motor and soundbox (as we do with all our phonographs), we also tore down the horn assembly and re-sealed all the joints to assure that there are no leaks (air leaks in these horns will significantly reduce sound quality, especially the bass). If you haven't heard one of these machines in person, playing a good electrical recording, then you don't know what you are missing! A truly classic 1920's sound. Most people are truly amazed. This will show superbly and perform excellently in any room.
Orthophonic machines come-up for sale on EBay and elsewhere, and prices can be all over the map, but many are damaged or badly deteriorated. Even the bad ones are generally quite expensive, as they remain in relatively high demand. Many times, even basic replacement parts on these machines (like the grille cloth fretwork or lid supports) can cost a small fortune. If you can find a "cheap" one, it will likely require total refinishing, replating of the hardware as well as a complete rebuild of mechanical components and sealing of the horn (no small job considering the complexity of the horn system). Given the originality and condition, this machine is a true bargain in our inventory, simply because we bought it at a good price back in 2012. Try to find one this nice at this price!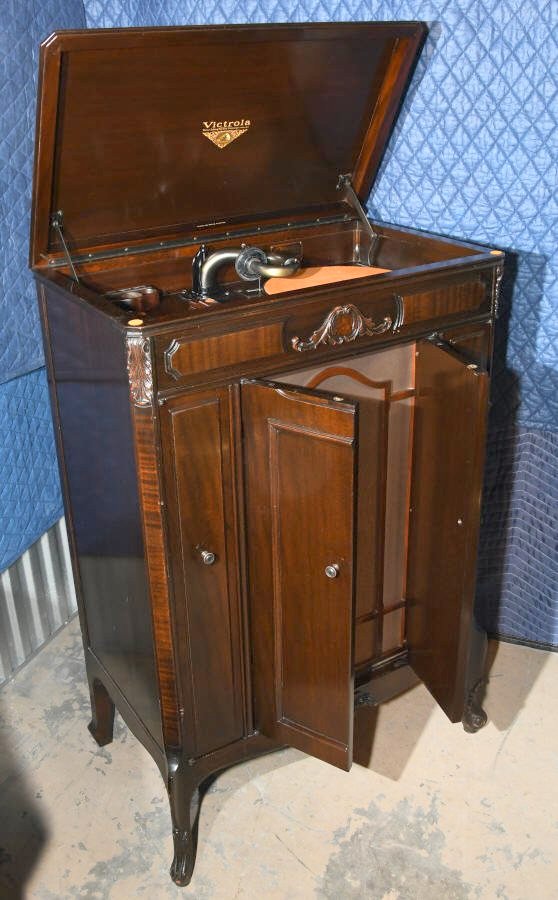 PRICE: $850.00