VV-XVI Serial Number 74134 Type E Red Mahogany
Build Date: April, 1913
Originality: 1 All original
Overall Condition: 4 Original machine showing fade and moderate wear on finish and hardware
(See the Ratings/Condition page for our grading scales)
---
See it in action on YouTube. Click here.
The VV-XVI was Victor's "Flagship" Victrola model, large in size and impressive in design. With Victor's best 4-spring motor, gold-plated trim and hand-carved corner posts, these machines are imposing, and can dominate a good-sized room. In late August 1912, the XVI model underwent a major design change (the suffix letter was changed to "E"); the cabinet became much more ornate and detailed, and was enlarged considerably. Those XVI's with an "E" or "F" suffix had an extraordinary amount of hand-carving on top and bottom of the corner posts (even more than the previous versions), and these never fail to gain attention. These models are truly the 'pinnacle' of the XVI series. The amount of carving was decreased in 1915 to save production costs, so these elegant versions were not available for very long. Every collector should have one XVI Type E or Type F to demonstrate the quality and attention to detail that the Victor plant could produce.
This is an absolutely original specimen, directly from the original owner's family estate, but the finish and hardware show moderate wear and some fading. However, it is far too good to strip and refinish. These antiques are only original once! The left side of the cabinet has faded (see pictures), probably from years of sitting next to a window or radiator. There is some crazing of the varnish, but this machine still retains most of its original shine. Even the turntable felt is original! This would be a great "starter Victrola" for someone who wants an elegant and original upright machine that has been completely refurbished mechanically, without spending a lot of money. Even though we have rated this machine as a "Number 4" condition, it is far better than you will ever find at the flea market or corner junk store, plus the motor and soundbox have been fully rebuilt! This would be a nice centerpiece of any living room or parlor, and will blend-in with virtually any room decor. You can find more on the XVI by clicking here.
As with all our phonographs, the motor, soundbox and all mechanical components have been torn down, cleaned and correctly rebuilt (by us). It comes with our 2 year unconditional performance warranty.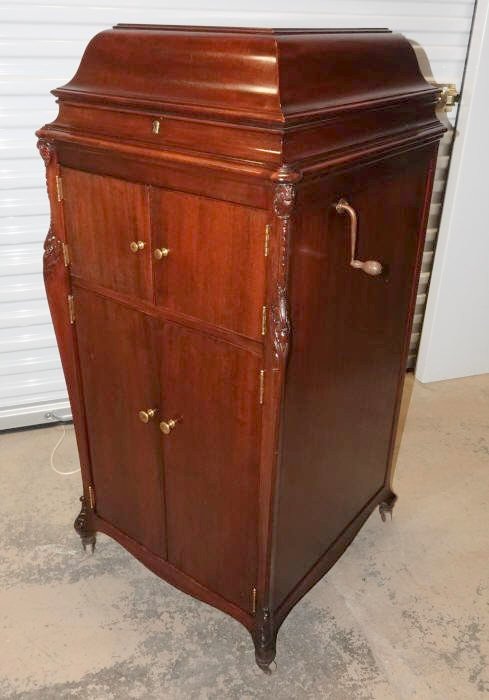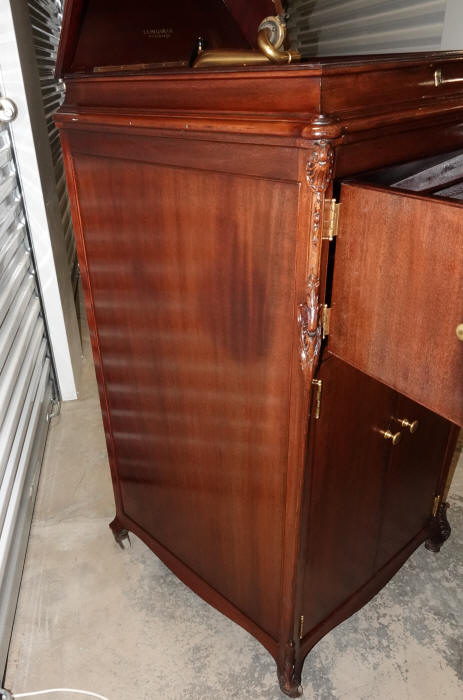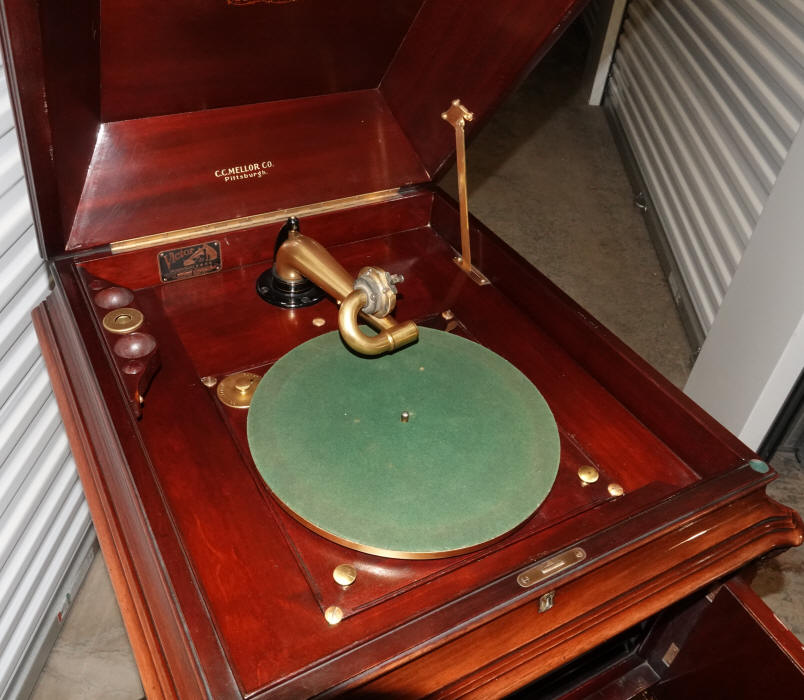 PRICE: $595.00