Victor E Front-Mount Brass Horn Serial Number 30130
Build Date: 1904
Originality: 3 Correct partial restoration on cabinet. Original horn.
Overall Condition: 4+ Great condition, shows very well. Horn has usual discoloration dings and scratches
(See the Ratings/Condition page for our grading scales)
---
See it in action on YouTube. Click here.
The Victor E was an early model first introduced by The Victor Talking Machine Co. in November, 1902. It was initially marketed as the "Monarch Jr.", and later became the Victor "E". The name was again transitioned to "Victor II" when the Roman Numeral model designations were introduced. This is a very early example with a "front-mount" horn. The horn is essentially an integral part of the tonearm system and literally moves along with the needle when the record is played. This approach, while rather awkward to use, was the only design in use at that time, and pre-dates the concept of a swiveling tonearm system. It is a small machine, and does not require a great deal of space to set-up and operate. Like all external-horn Victor phonographs, the Victor E is considered very collectable. It features a single spring motor, Exhibition soundbox, and nicely trimmed oak cabinet. When new, this Victor retailed for $25.00, equivalent to almost $650.00 in today's money.
The cabinet was restored many years ago, but it still in fantastic condition. The nickel-plated hardware has dulled slightly over time, and the nickel has worn-through in a few spots, but still looks good. This machine features the optional larger brass horn, which is an untouched original. As would be expected, it has a few dings, and shows its age, but it is as original as they come. This Victor performs remarkably well, with the original bevel-gear motor "hum", that is typical of these early models. This machine is for the buyer looking for an early Victor Phonograph, and wants a exceptional value. It will play records loud and clear, but since the small motor requires winding after each record, and the fact that it is a very early example, it is best used as a working showpiece rather than a machine for the buyer who is into serious listening. We have priced this "right" for the beginning collector, or simply for someone who wants a small, correctly functioning phonograph that will attract attention in any room. It has plenty of volume and is a very strong performer for its size.
You can find more on the Victor E by clicking here. As with all our phonographs, it comes with our 2 year unconditional performance warranty.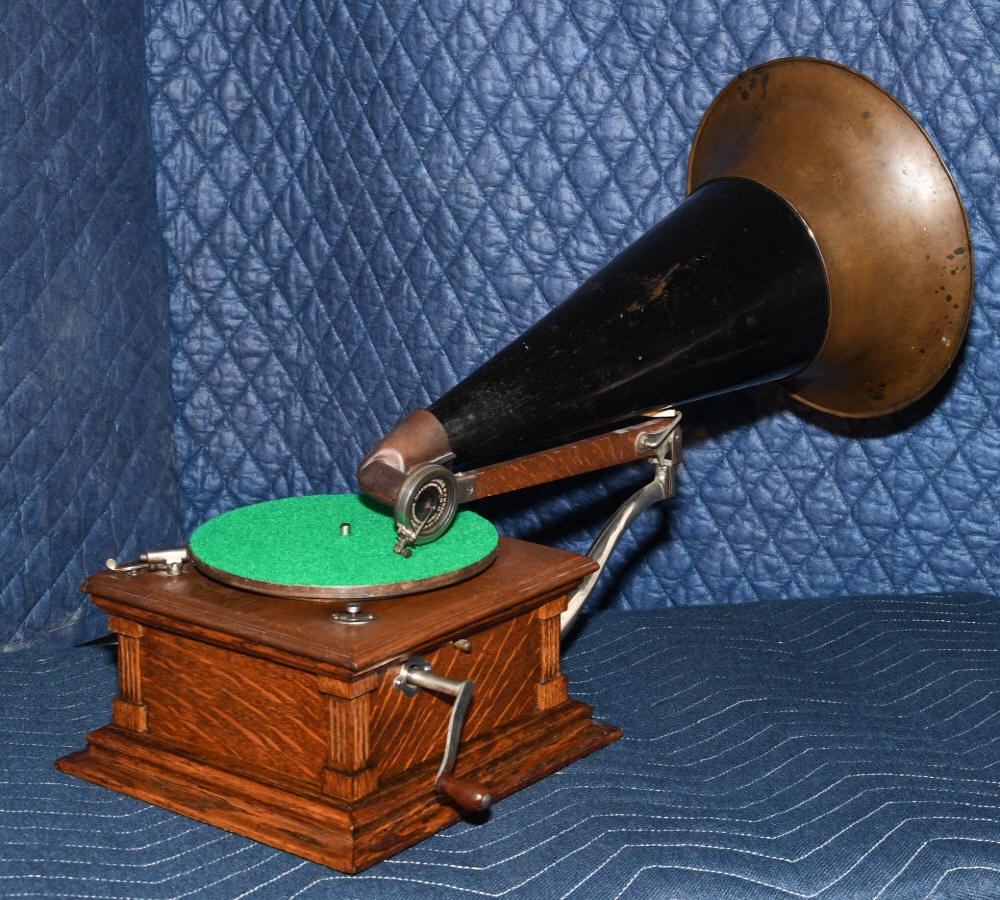 PRICE $1150.00