Victor II Serial Number 28118 with Standard Brass Horn
Build Date: 1909
Originality: 3 Very good original machine. Finish was overcoated with varnish many years ago.
Overall Condition: 4+ Good example all around. Horn shows the usual wear
(See the Ratings/Condition page for our grading scales)
---
See it in action on YouTube. Click here.
Like all external-horn Victor phonographs, the Victor II is considered very "collectable", but is not an especially rare or unusual model to come across at auctions or other sales. However, demand for all external horn machines remains high, especially if they are in working condition. This particular example is a nice original Victor. It shows well, and will be the spotlight in any room. A very good example of what was considered a "middle class" entertainment machine in the early years of the 20th century. It does not take-up a lot of space, yet really stands-out.
This is the second series of the Victor II machine, with a larger cabinet and corner pillars than were offered with the early versions prior to April 1909. It was originally a basic "step-up" model, and had a nicer cabinet and horn than did the cheaper Victor I series. It sold new for $30.00, which equates to about $850.00 in today's money.
This is an all-original machine, which has been lightly over coated with varnish sometime in the very distant past. It looks great, and runs well. It has the original single spring motor, which must be wound for each record played. The original medium-size 14" diameter Victor brass horn goes perfectly with this machine. It shows the usual wear and age from being stored in an attic, but is far better than most we come across. A correct Victor decal is clearly visible on the horn. This machine is truly for the buyer looking for a correct early Victor phonograph at a affordable price, and wants something that will really stand-out in any room. It shows only moderate wear, and will provide many years of service.
NOTE: The pictures below show reflections on the horn that appear to be gouges. They are only flash reflections of the nickel tone arm off the glossy horn finish.
You can find more on the Victor II by clicking here. As with all our phonographs, it comes with our 2 year unconditional performance warranty.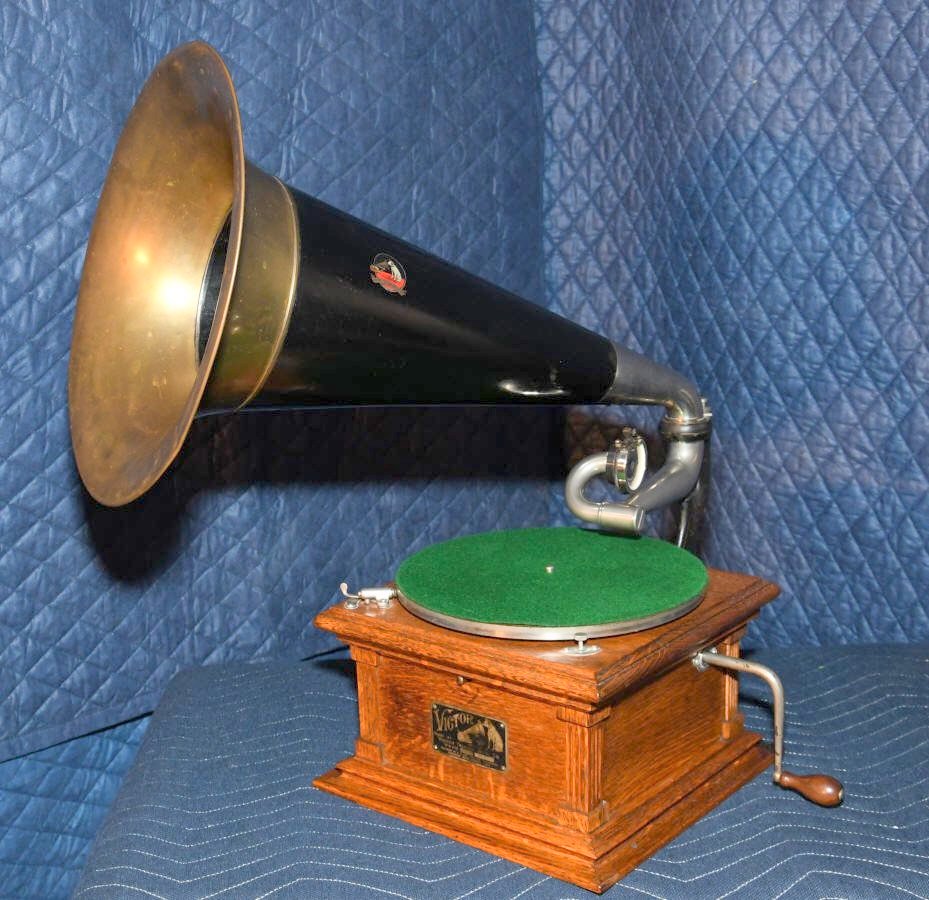 Price: $1550.00