Victor M "Monarch" Serial Number 44754 with Oak Spearpoint Horn
Build Date: 1906
Originality: 3 Cabinet and horn correctly restored.
Overall Condition: 2- Cabinet and horn are both extremely nice. Some hardware shows minor wear.
(See the Ratings/Condition page for our grading scales)
---
See it in action on YouTube. Click here.
The Victor "M" was the predecessor to the popular Victor 3, and shared many of the same features. Produced from 1902 through 1906 (when the "Victor III" was introduced), it was a reasonably successful product, as it offered substantial performance at an affordable price. The oak cabinet is decorated with carved "roping" along the bottom and carved corner-pillars. It has a strong 2-spring motor and the "Exhibition" soundbox. The magnificent oak spearpoint horn was an expensive option at the time, and produces a loud clear sound which will fill any room.
We restored this machine in 2012. It was then sold to a gentleman in Alabama, who has since experienced some serious health issues; we were offered the opportunity to buy his collection, and this is one of the machines that we got back. The phonograph still looks magnificent, with minimal wear. The original nickel hardware is still good and presentable, but does show some mild pitting. We recently tore-down all the mechanics to assure that everything is functioning as it should. The "M" models are priced slightly higher than the equivalent "Victor III" models, since they are older (fewer were made) and are far more ornate than the later "III" series. No apologies are needed for this machine, it really is an impressive and gorgeous piece. With the large wood horn, it is quite an exceptional package.
This would be a good choice for the collector who wants a good "upscale" external horn machine that looks good and runs well at a very reasonable price. It will stand-out in any parlor or office, and will run smoothly for years to come.
You can find more on the Victor M by clicking here. As with all our phonographs, it comes with our 2 year unconditional performance warranty.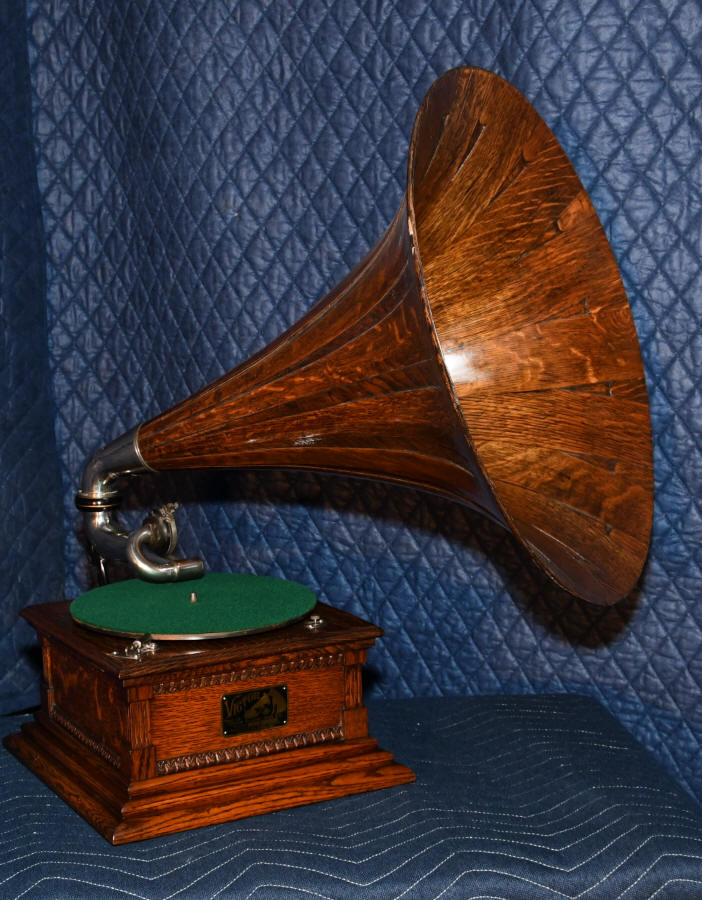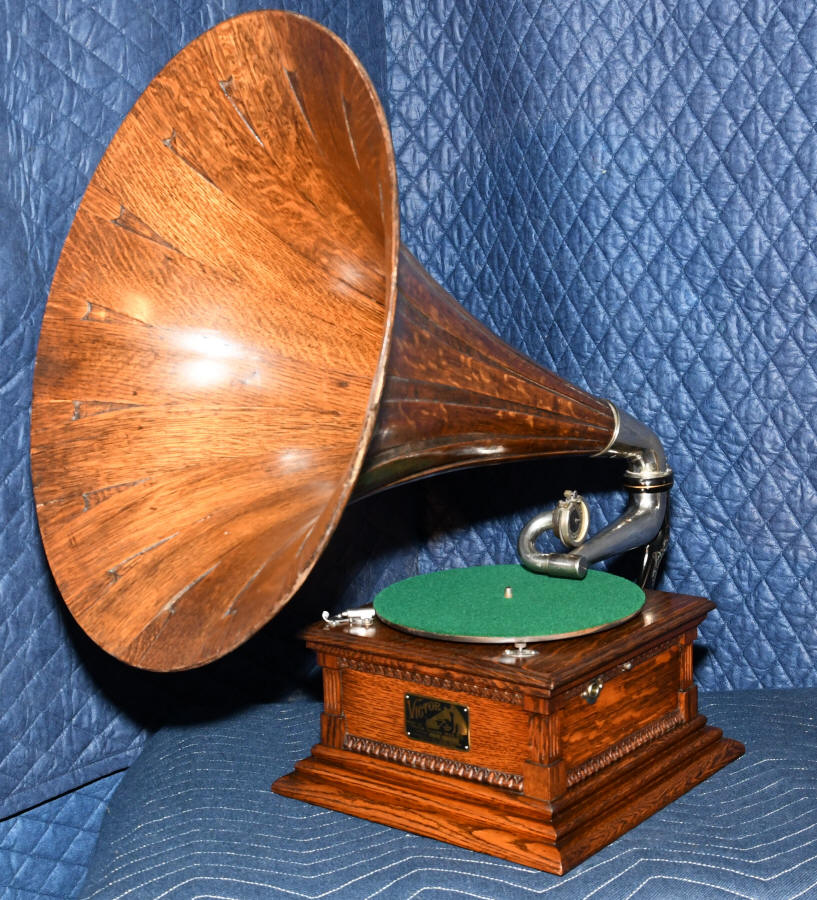 PRICE: $3450.00