Victor III with Smooth Oak Horn Serial Number 23212
Build Date: Late 1907
Originality: 1 100% original, untouched finish and hardware
Overall Condition: 3- Exceptionally good original in all repects. Horn has moderate surface crazing and minor separation of veneer (see below)
(See the Ratings/Condition page for our grading scales)
---
The Victor III was a "mid-range" phonograph in the early Victor product lineup. It featured a 10-inch turntable, nickel-plated hardware, and an exceptionally strong 2-spring motor. The case was made of quarter-sawn oak with corner columns. An "Exhibition" soundbox was standard equipment, to provide added volume and fidelity. Selling new at a substantial base price of $40.00, it was a very popular seller. This machine has the optional smooth oak horn, which we believe was originally sold with this machine (they both came from the same farm, and were paired when found in the attic storage room). This horn was an expensive option at the time, and the phonograph/horn combination was a very pricey luxury item at a time when the average wage was 22 cents per hour!
This machine was purchased at an estate sale in central Illinois in 2016. The cabinet, horn, backbracket and nickel hardware are untouched, and completely original. These components show far less wear than we usually encounter on these early machines, and they honestly look great. All we did was clean them up. The machine and horn have a really warm patina, with only slight crazing of the varnish, and the set shows exceptionally well. The gorgeous smooth (not spearpoint) oak horn is an unusual (and relatively rare) option for this model, and is in exceptional shape There is some minor damage and very slight separation of the veneer at the bottom of the horn (not visible when the horn is mounted on the machine), but this is not structurally significant (the horn is NOT at risk of coming apart), and this does not detract in any way from the appearance. This often occurs as these veneered horns age. The original Victor decal is still in place on the horn, and in very good shape. These big horns usually get pretty beat-up being stored for scores of years in attics and basements, but this one was a great survivor. We did replace the original (damaged) turntable felt. Other than that, this machine is exactly as purchased 111 years ago, and it sounds absolutely fantastic! It is a remarkable performer and will be the center of attention of any room. This would be good choice for someone who is into totally unrestored antiques, and wants one of the best untouched Victors that you are likely to find.
You can find more on the Victor III by clicking here. As with all our phonographs, it comes with our 2 year unconditional performance warranty.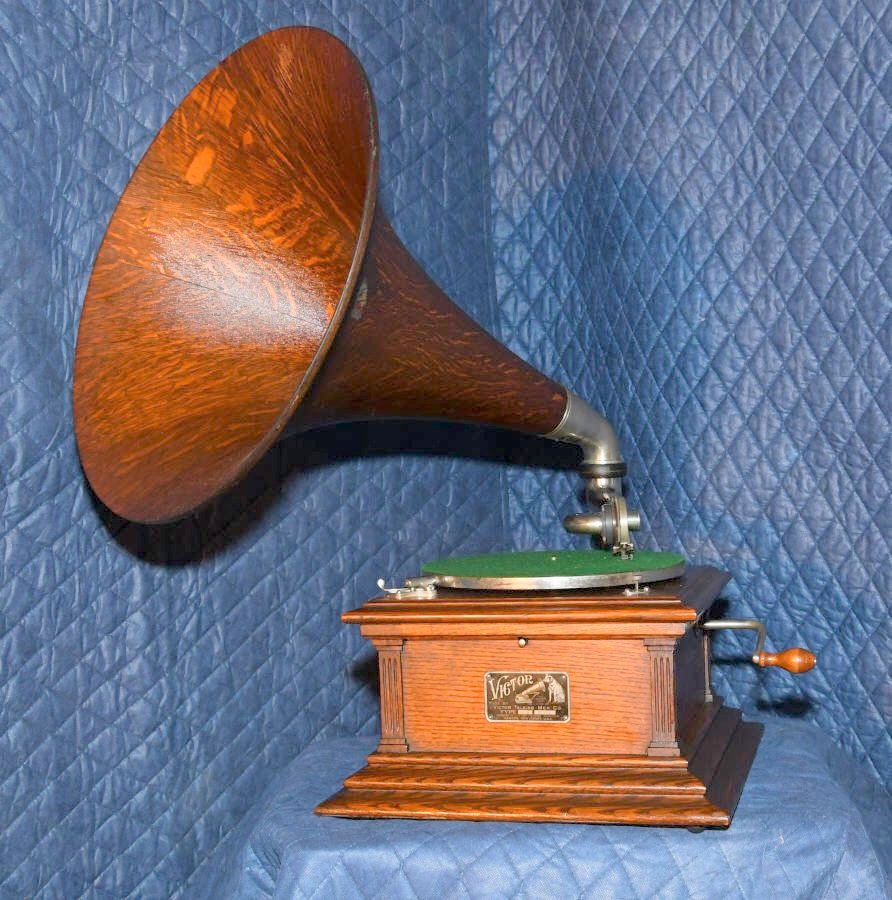 PRICE: $2950.00