The Victor-Victrola Page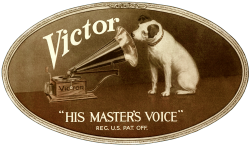 I purchased a modern portable "Victrola" electric phonograph (to play my vinyl records) from Kohls, Amazon or another retailer. It isn't working correctly and they list this website for repair services. What should I do next?
ANSWER: This problem has been ongoing for quite some time. We do not manufacture, repair or sell "modern" phonographs that are currently found at retail sellers. Try as we might to get our name removed, the instruction manuals and links for these phonographs mistakenly reference our website (for unknown reasons) as a repair service. We only deal in pre-1929 antique phonographs. Please contact the seller of your phonograph for more information, as we do not have any equipment or capabilities to service your new machine.
PLEASE CLOSE THIS PAGE TO RETURN TO FAQ's or RETURN TO HOME PAGE VIA BUTTON ON TOP LEFT