The Victor-Victrola Page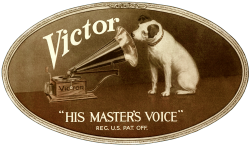 I have an "Electrola" (VE) Victrola with electric motor. Is it more valuable than a standard spring-wind version?
---
ANSWER: In most instances, Victrolas with electric motors are not more valuable than the wind-up versions. While it is true that Electrolas were made in much smaller numbers than wind-up machines, they sell for about the same price as similar-model spring-wound machines at auction and shows. Some collectors prize the early electrics, while others shun them and prefer to do the winding themselves. Regardless, there is rarely a significant value advantage for the electrics.
PLEASE CLOSE THIS PAGE TO RETURN TO FAQ's or RETURN TO HOME PAGE VIA BUTTON ON TOP LEFT