VE15-1 / Hyperion
RARITY: ¤¤¤ VALUE ¤¤¤


---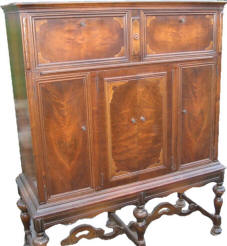 The Hyperion was an upscale "entertainment center" that included an RCA Radiola 28 Radio set in combination with a Victor-produced electric phonograph, making it one of the first fully electric radio/phono sets. It was one of the most expensive models in the Victor lineup when introduced in early 1926. The cabinet used a figured Walnut veneer and with elegant carving details.
The Hyperion sold for $900.00 new. Production lasted only one year, but this unsold stock of this model continued to be marketed and sold by Victor dealers through 1927.
Approximately 2100 Hyperion phonographs were produced, making it a relatively rare model.
Do you own a Hyperion? Please take a moment and enter some basic information about your machine into the collector's database by clicking here. No personal information is required.