VV-90
RARITY: ¤ VALUE: ¤


---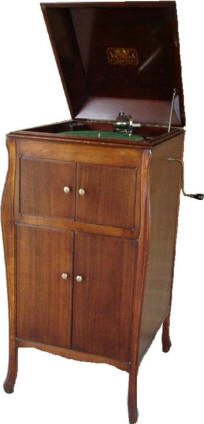 The VV-90 was introduced in 1921 when Victor updated their product lineup. It was intended as a replacement for the popular VV-XI, but with a slightly smaller cabinet and without casters. All VV-90's had the semi-automatic brake and a two-spring motor, and was available in mahogany, oak or walnut, but the most popular choice was mahogany. Production of the VV-90 was ended in 1922, but due to a large unsold inventory it remained in the Victor catalog until 1925.
The original 1921 selling price of the VV-90 was $125.00. An estimated total of 85,500 Victrola 90's were produced.
The current collector database shows the earliest existent VV-90 to be S/N 588 and the latest to be S/N 86000.
| | | |
| --- | --- | --- |
| Manufacture Date | Serial Number Range | Feature Notes |
| 1921 | 501-54500 | |
| 1922 | 54501-85900 | |
Do you own a Victrola VV-90? Please take a moment and enter some basic information about your machine into the collector's database by clicking here. No personal information is required.