VE 9-16 E
RARITY: ¤¤¤ VALUE ¤¤


---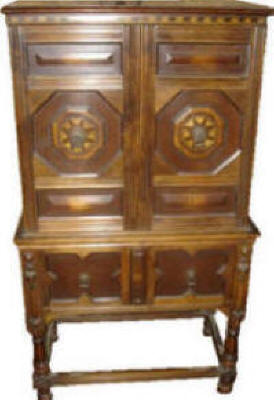 The 9-16 was a radio/phonograph combination that shared its cabinet with another similar combination model, the VE 9-18 E. The 9-16 was introduced during the summer of 1928, a few months before the 9-18, and was a lower priced set using an RCA Radiola 18 AM receiver and amplifier system. It included Victor's electric phonograph (without changer), and an electro-dynamic speaker. All 9-16's were produced using a combination of walnut and oak veneers in an Early English style cabinet.
The original 1927 selling price of the VE 9-16 was $750.00. An estimated total of 2100 VE 9-16' s were produced until it was discontinued from the catalog in 1929. All VE 9-16's were manufactured during the latter part of 1928.
Do you own a 9-16? Please take a moment and enter some basic information about your machine into the collector's database by clicking here. No personal information is required.