VV 7-3 / VE 7-3X
RARITY: ¤¤ VALUE ¤


---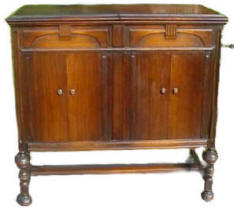 The 7-3 was a combination radio/phonograph, introduced in the summer of 1926. It utilized an RCA-produced Radiola Model 20 radio along with a conventional Victor Orthophonic phonograph, with a selector switch to convert operation between the phonograph and radio. The 7-3 featured a small Orthophonic "folded" horn and gold plated hardware. All 7-3's were manufactured in 1926. although they continued to be listed in the Victor catalog the following year. The Radiola radio was powered by a set of batteries. VE 7-3's used AC power to operate the phonograph motor only, although power conversion kits were available to replace the radio batteries with the AC power. The VV 7-30 replaced the 7-3 in 1927, using the same components in an updated cabinet.
The original 1927 selling price of the 7-30 was $375.00. which was reduced to $325.00 late in the year. The electric-motor version (VE 7-30) cost an extra $35.00. An estimated total of 9,200 Victrola VV 7-30's and 4000 VE 7-30's were produced.
Do you own a Victrola 7-3? Please take a moment and enter some basic information about your machine into the collector's database by clicking here. No personal information is required.