VV 4-1
RARITY: ¤¤¤ VALUE ¤


---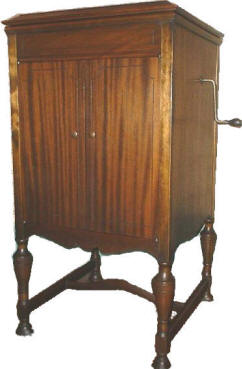 The VV 4-1 was sold only for export, and was marketed primarily in Latin America beginning in late 1925. It used a cabinet which was identical to the Consolette (or VV 4-3), which was a popular phonograph in the US market. But while the US version featured advanced Orthophonic reproduction, the VV 4-1 used older a mix of pre-Orthophonic mechanical components in the newer cabinet and horn design, resulting in a rather medicore sound quality as compared to the full Orthophonic models. This marketing strategy was obviously intended to "use-up" leftover pre-Orthophonic parts and sell them in an export package.
The original 1925 selling price of the 4-1 was $85.00 US. An estimated total of only 1,050 Victrola 4-1's were produced. However, since these Victrolas are virtually identical to the commonly found Consolette model, they do not typically have high value to collectors.
Do you own a Victrola VV 4-1? Please take a moment and enter some basic information about your machine into the collector's database by clicking here. No personal information is required.