VV 14-1 / Revere
RARITY: ¤¤¤ VALUE ¤¤


---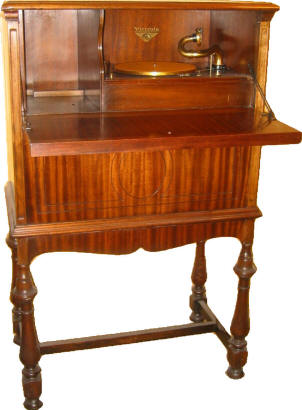 The 14-1 (identified as "Revere" on the dataplate) was a short-lived Orthophonic phonograph with an unusually large cabinet and the distinct feature of a "downward" pointing horn. This phonograph was styled like a large buffet, with long turned legs, and a boxy cabinet with the phonogaph mechanism sitting right at eye level (when the front door was dropped open). Rather than facing forward, as was always done with Victrola horns, the horn's opening faced the floor. The exact intent of this design is unknown, but it is assumed that Victor was attempting to use acoustical floor reflections to give a more spread-spatial effect to the reproduction. This would require that the 14-1 be placed on a hard floor surface, as carpeting would absorb most of the high frequency content. The 14-1 did not sell well, and it was discontinued in late 1926, less than a year after it was introduced. Some information exists which indicates that the 14-1 was planned as a very limited production from the start, perhaps as a sales "experiment" to see how the design would be accepted. Gold plated hardware and a 2-spring motor were used in this model.
The original 1926 selling price of the 14-1 was $275.00. An estimated total of 3,035 Victrola 14-1's were produced, making it amongst the rarest of the Orthophonic models. However, the rather poor sound quality of these machines as compared to the Credenza or other large models tends to limit collector interest today, so current value is not typically reflective of the rarity of this model.
The current collector database shows the earliest existent Revere to be S/N 627 and the latest to be S/N 3396.
| | | |
| --- | --- | --- |
| Manufacture Date | Serial Number Range | Feature Notes |
| 1926 | 501-3536 | |
Do you own an Revere? Please take a moment and enter some basic information about your machine into the collector's database by clicking here. No personal information is required.