VE 12-15E
RARITY: ¤¤¤ VALUE ¤¤¤


---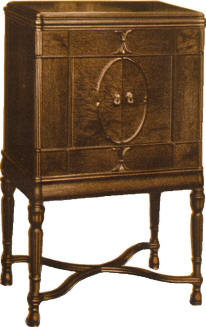 The 12-15 was a fully electronic phonograph set in the upper mid-price range, introduced in early 1928, replacing the discontinued VE 12-25. It paired a Victor turntable system with an RCA audio amplifier. A radio was not included. Later production versions used an improved amplifier that improved the sound quality by reducing the "hum" that was often present in early tube amplifiers. Production lasted into early 1929, and a total of 6,020 of these phonographs were produced. The cabinet used a walnut veneer with a blended stain effect.
The 12-15 sold for $550.00.
Do you own a 12-15? Please take a moment and enter some basic information about your machine into the collector's database by clicking here. No personal information is required.