VV-107 / VE-107
RARITY: ¤¤¤¤ VALUE: ¤¤


---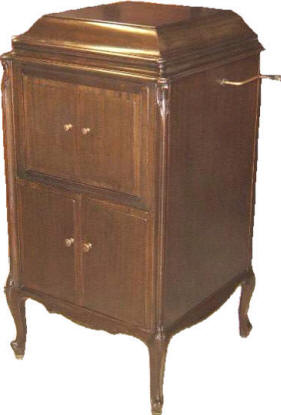 The VV-107 was a short-lived premium floor model, produced to boost Victrola sales during the slow 1924 Christmas season, when radio sales far exceeded phonograph sales. Introduced in the late summer of 1924 it failed to sell well. It had an unusual cabinet design, with a lower "compressed" appearance. Gold hardware and an "air-drop" lid were standard equipment. The 107 was discontinued with the introduction of the Orthophonics, after less than one year of production. Due to their rarity, these machines are considered desirable by collectors today. All 107's have identical design features.
The original 1924 selling price of the 107 was $200.00. An estimated total of 1,007 Victrola 107's were produced.
A total of 13 VE-107's (electric motor) were produced, ranging from S/N 501 through S/N 514.
The current collector database shows the earliest existent VV-107 to be S/N 553 and the latest to be S/N 1494.
| | | |
| --- | --- | --- |
| Manufacture Date | Serial Number Range | Feature Notes |
| 1924 | 501-580 | |
| 1925 | 580-1508 | |
Do you own a Victrola VV-107? Please take a moment and enter some basic information about your machine into the collector's database by clicking here. No personal information is required.