VE 10-70 E
RARITY: ¤¤¤ VALUE: ¤¤¤


---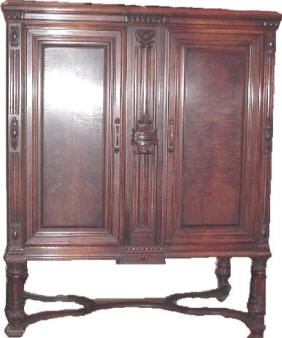 The VE 10-70 was a premium phonograph, introduced in late 1927. This machine utilized Victor's automatic record changer (first introduced on the VE 10-50), allowing the user to play up to 12 records automatically without the need to manually intervene. However, instead of using the usual large Orthophonic Horn for reproduction, this model used an electronic power amplifier and paper cone-style speaker. This allowed an equivalent volume of music as the 10-50 without the need for the huge cabinet, and also had the advantage of an infinitely adjustable volume control (the acoustic 10-50 required the user to open and close the front cabinet doors to adjust the volume within a limited range). No radio was included with this model.
The original 1927 selling price of the VE 10-70 was a whopping $1100.00. An estimated total of 2,500 VE 10-70's were produced, all in 1927 (however this model remained in the Victor catalog well into 1928).
Do you own a Victrola VE 10-70? Please take a moment and enter some basic information about your machine into the collector's database by clicking here. No personal information is required.