VE 10-50 X
RARITY: ¤¤ VALUE: ¤¤


---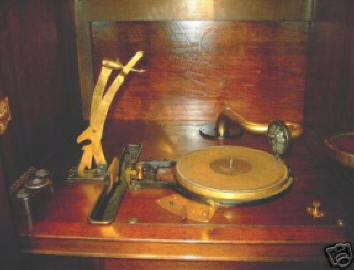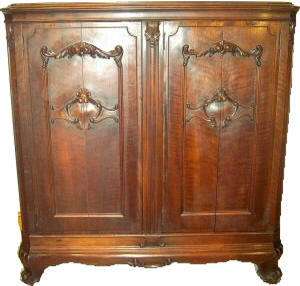 The VE 10-50 was a revolutionary phonograph introduced early in 1927. This was the first fully automatic record changer that Victor produced, and allowed the user to play up to 12 records automatically without the need to manually intervene. It was basically an acoustical phonograph with components identical to the top-of-the-line Credenza combined with the latest Victor changer mechanism, where records were manually loaded onto a spindle and then transferred to the automatic changer. From that point on, the 10-50 did all the work of changing records. Late production versions used a clear window in the left front door, so that users could watch the records automatically change. All 10-50's were available in both mahogany and walnut finishes.
The original 1927 selling price of the VE 10-50 was $600.00. An estimated total of 12,000 VE 10-50's were produced until production was discontinued in late 1927. All 10-50's were built during 1927, although the model remained in the catalog until early 1928.
VE 10-50 X and VE 10-50 U models were produced. The "X" versions used an AC only motor , while the "U" versions used an AC/DC motor. Only 685 copies of the "U" version were manufactured.
The current collector database shows the earliest existent VE 10-50 to be S/N 517 and the latest to be S/N 9688.
Only two surviving VE 10-50 U models have been logged to date.
Do you own a Victrola VE 10-50? Please take a moment and enter some basic information about your machine into the collector's database by clicking here. No personal information is required.